The Dickens Chalet Appeal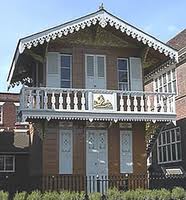 This Chalet once stood at Gad's Hill Place, Higham. It was used as a summer study by Charles Dickens from 1865 until his death in 1870. He was writing The Mystery of Edwin Drood in the chalet overlooking the River Thames and countryside the day he died.
John Knott Vice President of the Rochester and Dickens Fellowship, said the building really needs to be completely taken apart and every bit of rotten wood replaced. At the moment it is unsafe to go inside but once restoration is complete we hope to open it for special events and appointments.
The Rochester and Chatham Branch of the Dickens Fellowship are arranging a series of events to raise money for this important appeal. For further details, please see the Events Calendar.
Supporting the HLF bid made by Medway Council  of  2012/13 , the  Rochester and Chatham Branch Dickens Fellowship committed to a figure of £20K . With the great support of of fellow branches and especially the £2.5k from head  office this figure was achieved soon after the Bi centenary celebrations that were held at Rochester and Chatham  in February 2012.
The HLF bid was only successful in funding for the restoration of Eastgate House .
Medway Council were  advised that a new bid for the Garden and Chalet Restoration be submitted to the HLF and they have worked with Rochester and Chatham branch in the process of doing so .The new bid being submitted in March this year, a decision is expected by the end of June .

The original proposals were for a  limited restoration .
New proposals requested by our branch for  the complete restoration, taking apart and restoring each individual piece before reconstruction at a better site within Eastgate gardens, is included in the new HLF application. If successful the work would be completed in 2018.
This will mean costs will have risen, and if unsuccessful other avenues will have to be persuade to save this treasure in Rochester's midst .
For these reasons the Rochester and Chatham Fellowship have committed to continue fund raising for the preservation of Charles Dickens Chalet. Medway Council has  supported us in this by printing 1000 copies of John Knotts book 'Dickens Swiss Chalet' John who is our branch Vice President wrote this  book to raise funds for the Chalet's Restoration when it was first seen to be in  desperate need of preservation in 2010.This is when our branch opened the  Dickens Chalet Restoration fund account ,as separate from any  branch account . 
The Chalet Restoration Fund has risen over the subsequent years to £23177 owing to the our Branch members supporting efforts. We will continue fund raising until we have the means to complete the Restoration of this precious gem in our domain, with the  great support of the local authority we are sure this will be a wonderful achievement for our past and  future heritage.