Letter from the President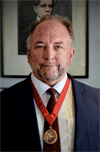 It is a huge honour to become the 60th President of the Dickens Fellowship. As a great great grandson of Charles, I'm the 13th member of the family to be invited to take the role and I'm thrilled to follow in the footsteps of my brother, father, cousins, uncles and grand-uncles. 
The first family member to be President was my great grandfather Sir Henry Fielding Dickens. That was back in 1903 when he was 54 years old and the Fellowship was taking its early steps. Just look where those early steps have taken us. Numerous branches across the World, each of them with a membership vibrantly alive to the joys, humour and richnesses that flowed from the pen of my illustrious forbear. In 2020, we will mark the 150th anniversary of Dickens's death. But the reality is that he remains intensely alive. 
Go in to a book shop in Dartford, Detroit, Dunedin or Delhi and you'll find Dickens there. Not one piece of work has gone out of print and theatrical, television and movie production companies have an insatiable appetite for his work. As I write this, we await the release of Armando Iannucci's interpretation of David Copperfield with the likes of Dev Patel, Hugh Laurie, Tilda Swinton and Ben Wishaw in key roles. In the UK, his work remains firmly on the syllabus in senior schools. This year, O level students studied A Christmas Carol and for 2020, it will be Oliver Twist.
 In these times of digital technology and the allure of mobile screens, I have a passion to encourage young people to discover the joy of books, the thrill of a good yarn and witness their fluency developing. For several years, I have worked with Primary Schools as a reading volunteer and when the schools discover my ancestry, I'm often been asked to come and talk to the children. Never mind that these youngsters are aged seven or eight years old, when one tells them the rags to riches story of Dickens, they are instantly engaged. When I've read to them an abridged version of A Christmas Carol (but retaining the text as written), I've witnessed a class agog, as the Ghosts weave their spell and transform curmudgeonly old Scrooge before their eyes. 
I'm always so amazed to find words first written 176 years ago continue to connect with such fresh vibrancy. The power of Dickens indeed. For my Presidency, I'm hugely keen to focus on the young and would like to work closely with branches and engage with children of Primary School age in your locale. 
The story of Charles John Huffham Dickens, his works and his continued global impact is a powerful one – particularly as his tough experiences as a 12 year old working in that ghastly blacking factory were to shape and powerfully influence a mind so young. Perhaps in the fullness of time, one of those youngsters might become a future President of this Fellowship and that would make me proud indeed!
With Dickensian friendship (because I am indeed a Dickens-IAN) and in Fellowship,
Ian David Charles Dickens.
Gurnard, Isle of Wight.