Dickens Fellowship Membership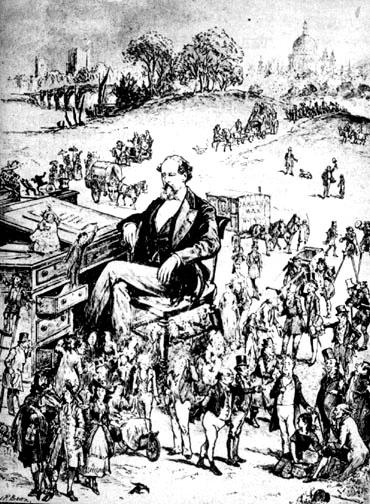 Dickens surrounded by his characters.
Members of the Fellowship come from all walks of life, their one common attribute being an interest in Dickens. Anybody, anywhere in the world, is most welcome to join us. Members may attend meetings, lectures, conducted walks and other events organised by any part of the Fellowship and are entitled to unlimited free admission to the Charles Dickens Museum in London, as well as to a reduced subscription rate to The Dickensian. One may join the Fellowship either by applying to the membership secretary in London or to the secretary of a branch.
Applications to the Membership Secretary in London
To join the Fellowship, or to renew your current membership, please print out and complete the application form and send it to us with your remittance or credit card details.
Send the form and your remittance to:
The Membership Secretary, The Dickens Fellowship
48 Doughty Street
London WC1N 2LX, England
Enquiries can be addressed to postbox@dickensfellowship.org.
Every effort is made to respond quickly to enquiries and applications, but it is not always possible to do so. We have no paid staff at the Museum and our volunteers work mainly at home in their spare time.
Applications to the Secretary of a Branch
Each branch is autonomous and makes its own membership arrangements. Accordingly, one needs to contact the branch to discover the current terms. Contact details are provided on the branches page.