Central Fellowship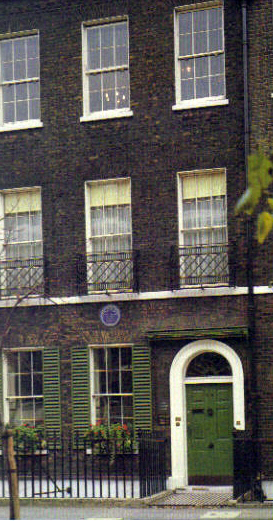 The Charles Dickens Museum
at 48 Doughty Street, London
THE CENTRAL FELLOWSHIP IN LONDON
The organisation of the international Dickens Fellowship is, appropriately, coordinated from London -  the city which is most closely associated with Dickens and the concept of 'Dickensian.' Information about the administrative role of the Central Fellowship is given on the organisation and history pages.
Apart from being at the centre of the international community which is the Dickens Fellowship, the Central Fellowship  has its own membership, like any of the Dickens Fellowship branches. The membership of the Central Fellowship, as you would expect, includes many people who live in or near London, and who take part in our very busy programme of events. But we also welcome as members people who live in parts of the UK or parts of the world where there is no local branch of the Fellowship. We currently have members who live in Ireland, Bosnia, Germany, Poland, Malta, Sweden, China, Hungary, Bulgaria, Taiwan, and many other countries. They are kept in touch with news and activities of the Central Fellowship by the newsletter produced here in London – the London Particular and through the website. Many also choose to subscribe to The Dickensian, the Fellowship journal. We are of course delighted to see distant members at our meetings whenever they are visiting London, and we welcome news items from them for inclusion in our publications.
This page of the website gives information about activities of interest to London members and to members of the Fellowship visiting the capital. The list on this page includes the Central Fellowship programme of events for 2017, activities organised by the Friends of the Charles Dickens Museum in Doughty Street, and details of other exhibitions, conferences, meetings, walks and social events which we think may be of interest.
The London Programme of the Central Dickens Fellowship
Our annual programme tries to provide 'something for everyone': talks, walks, readings, visits, and opportunities for socialising in true Dickensian fashion!
Our monthly meetings are held in a variety of locations in central London. They start at 6.30pm. They usually take the form of a talk followed by an opportunity to chat to other members over refreshments. We tend to link the talks to a particular Dickens novel - this year we are focusing on the journalism. Visiting speakers are experts on different aspects of Dickens's life, work and times. We also occasionally feature 'in-house' talks and entertainment, sometimes provided by members of other Fellowship branches. There is no charge for attendance at our regular meetings, but donations to our Oliver Fund are encouraged. Visitors are welcomed.

In the summer months 'outdoor' events includes guided walks around areas of Dickensian London, the wreath-laying on Dickens's grave in Westminster Abbey, and commemoration service at Little Dorrit's church in the Borough, and an outing to a location with Dickens associations - this year to to Gads' Hill and other sites in Kent.

The social events of the year usually start with the Birthday Dinner – a formal banquet with guest speakers held on or near Dickens's birthday (7 February).

Information about these events are printed on the Dickens Fellowship membership card and appear in the events listing on this page – where any unexpected alteration to the programme will be signalled. Alternatively, follow us on twitter @DickensFellow HQ for the latest news and updates.

Click the link below to see a copy of the current year Central Dickens Fellowship Programme